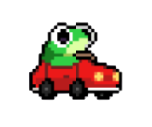 One Frog's No Good Very Bad Automobile Malfunction
IMPORTANT: In order to satisfy operators you only need to worry about them being true individually (i.e. the numbers immediately to the right or left of them)-- you don't necessarily need to follow the rules of actual math. There is only one level where this matters and the solutions is something like:
3 > 1 = 1 < 3
Sorry if that's confusing.
Download
Download
One Frogs Very Bad No Good Auto Malfunction.zip
18 MB